A FeW SimplE IngRidientS...
authentic × healthy × middle-eastern
MEDITERRANEAN Nachos
Hearty & savory stack of baked pita chips. Topped with cooked fava beans, crisp romaine, fresh shepherd salad, a dollop of our spicy cilantro-jalapeño hummus, and labneh.
$12.95
Moroccan Chocolate Cake
Dark chocolate, toasted almonds and fresh dates. Contains no sugar. Topped with fresh strawberries and a sugar free chocolate syrup. $6
Citrus Shrimp
Grilled wild Shrimp, marinated in citrus juices, garlic, honey, & spices. Served atop sautéed spinach, kale, & red onions. Topped with mango-pineapple salsa. $21.99
⏤ First Course ⏤
Mezze Platter
A sample platter of Hummus, Spicy Hummus, Baba Ganooj, Falafel, Tahini, one Grape Leaf & a choice of a Tabbouleh, Couscous, Shepherd, or Chick Pea Salad. Served with pita bread.
⏤ Second Course ⏤
Roasted Rockfish
Whole local Rockfish stuffed with Italian parsley, Rosemary, thyme, dill, whole garlic, diced tomatoes & spices. Baked with organic seasonal vegetables (broccoli, baby carrots, mushrooms, bell peppers, shallots). Served with Bakdounseyyeh dip (chopped parsley, minced garlic, lemon juice, & tahini), & Tomato-Red Onion-Tahini salad.
⏤ & ⏤
A glass of Wine
Each guest has an option to receieve a complementary glass of either House Red or Pinot Grigio
(ask your server for a substitution)
⏤ Third Course ⏤
Baklava
Hand-rolled with 75% less butter and sweetened with pure honey & organic sugar syrup. Greek style baklava made with crushed walnuts, cinnamon, pure honey & orange blossom.
Baladi Mediterranean Café offers taste of owner's Homeland.
Baladi opened in 2008 at Hilltop West Shopping Center. Since then, Chef Khaled has been serving both quality interpretations of classic Palestinian dishes and daring new ventures into the uncharted territories of Middle-Eastern Cuisine.
The phrase Baladi Foods means natural and organic foods that are prepared with traditional methods. Café's interior reflects the setting of a traditional home in Middle East also paying tribute to hospitality of Arabic culture.
All food is prepared daily. We only use:
Organic, Unfiltered Olive Oil (Lebanon);

Organic, Authentic, Imported Spices (Palestine);

Organic Turbinado Sugar and Clover Honey;

Purified, Filtered Water.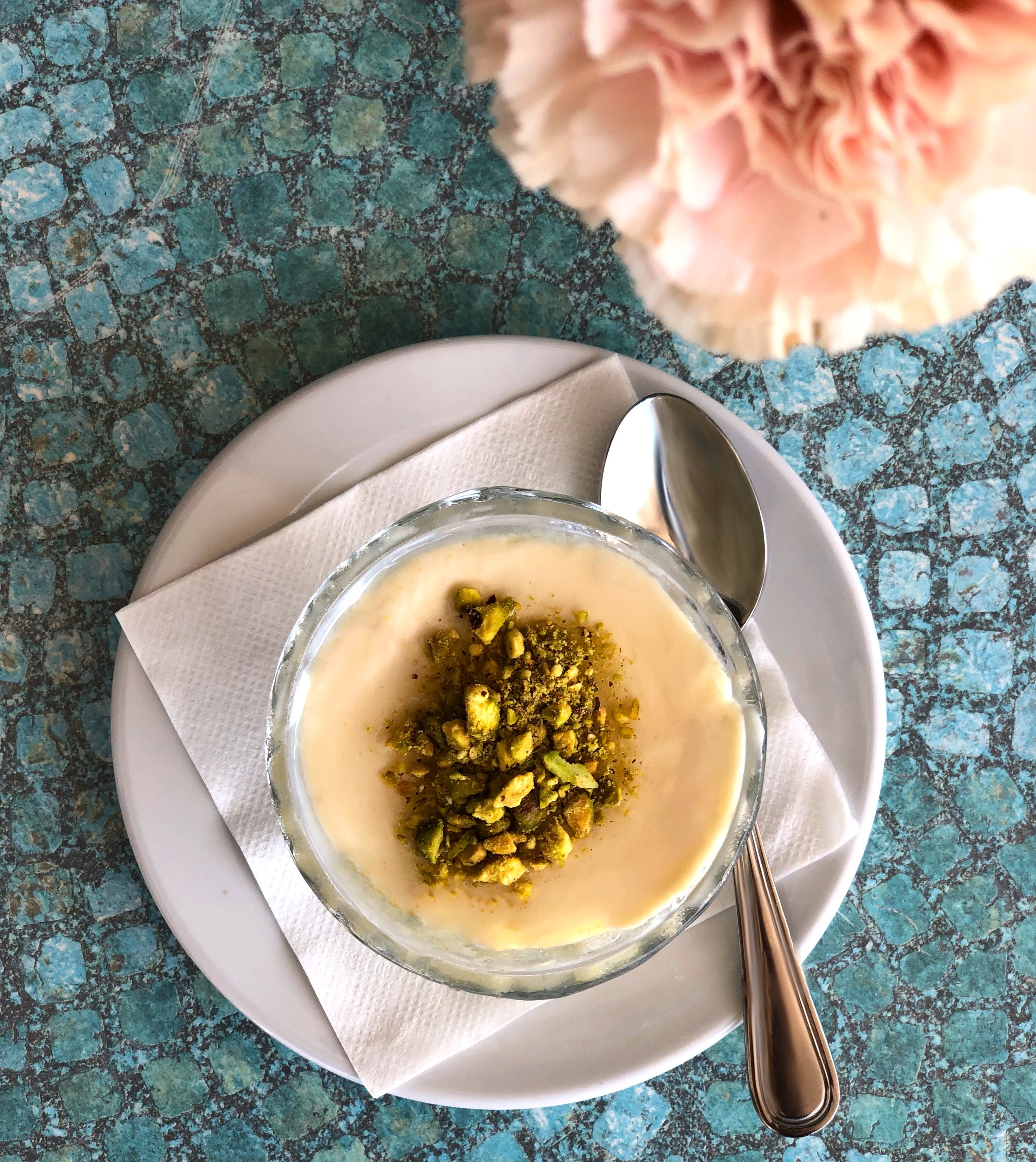 Monday - Friday
$2 OFF Cocktails
$2 OFF Draft Beer
$1 OFF House Wine & Domestic Bottled Beer
Wednesday
Complementary Falafel for each Guest.
50% OFF Vegan Wine bottle with a purchase of 2 or more entrées.
Thursday
50% OFF selected bottles of Wine with a purchase of 2 or more entrées.